At the edge of the 21st-century digital transformation has been important for businesses of all types. It is all about using technology to the fullest to drive significant outcomes. IT infrastructure and networking equipment are the two most essential things that you will need to make the most of digitalization. However, they can be expensive and using the wrong solution can significantly harm your business. Extreme Networks is a trusted networking company in the entire world that designs, manufactures, and develops wireless and wired network infrastructures that help businesses manage operations.


They also develop software for access controls, analytics, network management, etc. Extreme Networks is currently the global leader in the networking industry, and we feel proud to be an
Extreme Networks dealer in UAE
. Their team operates in the following regions:
1. North America
2. Europe
3. South America
4. Middle East
5. Asia Pacific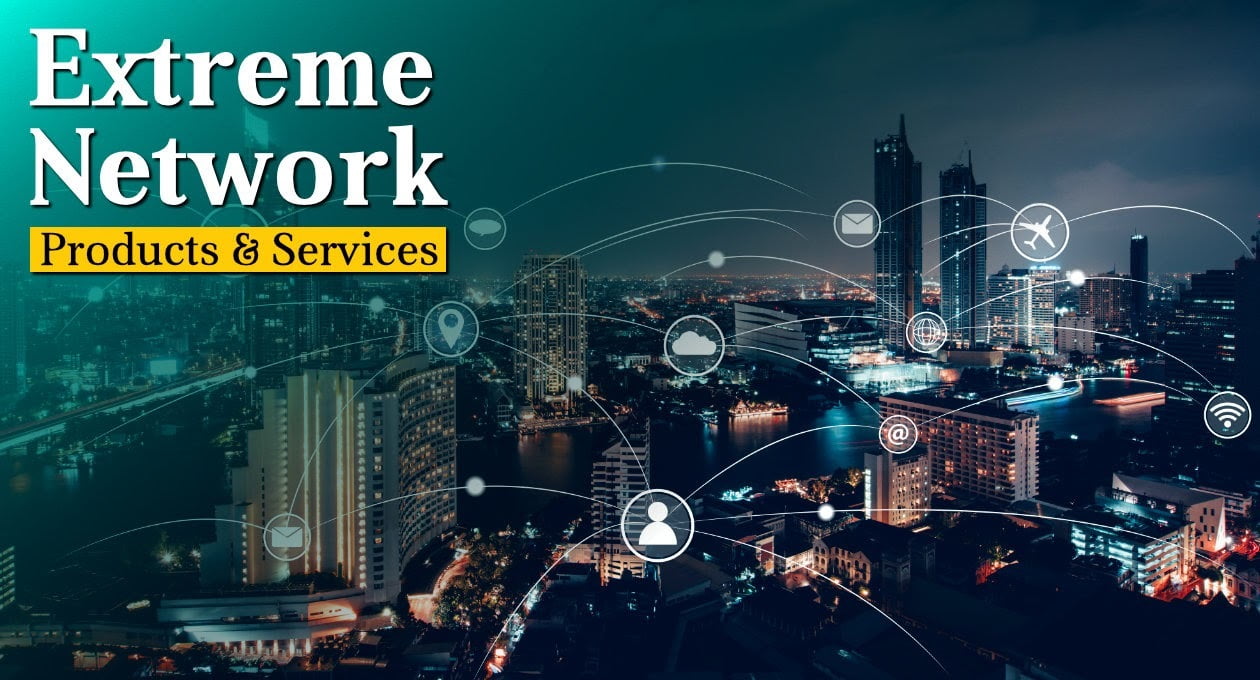 Products


As a leading networking company, Extreme Networks offers a variety of products to its customers. Their products can be categorized into two types: infrastructure and applications. Here you will find a few products that Extreme Networks offers in the infrastructure category.
1. Switching:
It helps to build end-to-end fabric networking.
2. Wireless:
Make the most of Wi-Fi 6 with their wireless infrastructure products.
3. Routing:
Their routing solution ensures adaptive connectivity throughout DC to branch.
Extreme Networks also offers a variety of applications to their customers. The list includes the followings:


1. Automation and Management:
With their automation and management products, you can streamline network operations.
2. Access Control:
You can use their access controlling products to gain control over corporate, IoT, BYOD, and guest access,
3. Analytics & Visibility:
Products in this category can help you to unlock new business insights and IT intelligence.
The products mentioned above can help you to manage smooth business operations. We are one of
Extreme Networks gold partners in UAE
. Consult us now if you want to skyrocket your business performance using Extreme Networks products.
Services


Located in the heart of Silicon Valley, Extreme Networks is one of the most trusted networking companies. Below are the few services that they offer.
1. Extreme Academy:
You can become a member of their training partnership program and educate yourself.
2. Maintenance Services:
Extreme Networks also offers maintenance services and keep your network fully functional round the clock.
3. Professional Services:
They also offer a wide range of professional services like network solutions, implementation, consultation, etc.
4. Training & Courses:
Extreme Networks also offers networking courses and training.
5. Managed Services:
They offer fully managed ITIL-based networking services to their customers across the globe.
We are one of the leading
Extreme Networks diamond partners in UAE
. Consult us now if you want to boost the IT performance of your business using Extreme Networks services.
Siemcom is an experienced IT company serving the communication and IT sectors of the UAE market. As a trusted dealer of Extreme Networks, we streamline clients' network operations. We leverage the power of applied data intelligence to create the utmost networking experience. You never have to worry about the IT operation if you choose Siemcom as your Extreme Networks dealer.
We can also help you scale your network operations from one device to millions across private and public clouds. Our engineers can tailor your solutions according to your network operations and connectivity. Consult us now to address your IT needs.