Rapid innovations in technology continue to accelerate in recent years and each business organization, especially small and medium busines enterprises must move with the times and adopt new technologies to stay connected with their customers, investors, creditors, and other stakeholders. Organizations around the world are looking for a cloud-based telephony system to improve their operational efficiencies.
In this context, the latest innovation from Microsoft; Microsoft 365 business voice in the UAE has become more relevant for small and medium enterprises in order to establish an effective and dependable communication system for their businesses. It is a cloud-based phone system that is ready to replace traditional phone systems successfully. If you want to know more, continue reading this blog.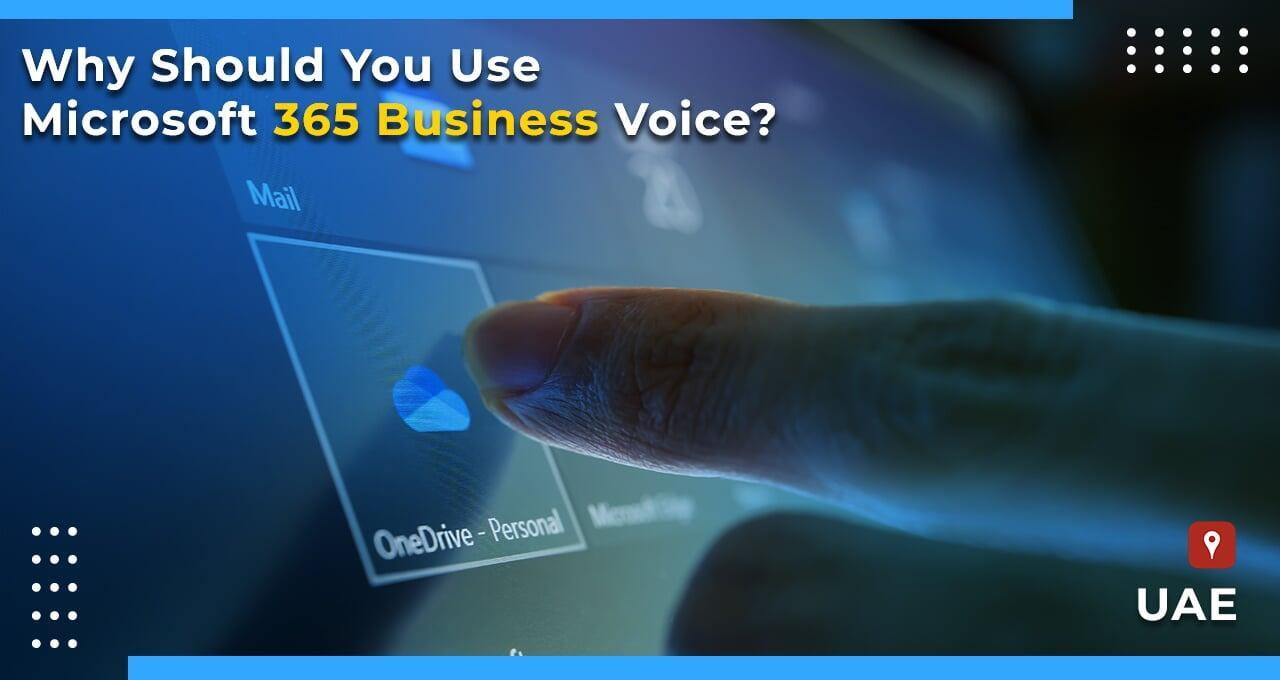 Core Features Of Microsoft 365 Business Voice:
● Auto Conferencing: Microsoft business voice in UAE is equipped with an advanced audio conferencing feature that allows users and business owners to host conference calls while remaining offline or Microsoft teams are unavailable. This facility provides both individuals and entrepreneurs with greater flexibility and leverage. Based on their needs, users conduct meeting with up to 250 participants with a specific dial-in number.
● Business Level Phone System: All essential standard calling features like voicemail, call forwarding, caller ID, and shared phone lines are available under Microsoft's business voice package. In addition, the voice service is delivered from the trusted cloud network of Microsoft which makes the product and the service more secure.
● Easy Invoicing & Management Set Up: By using Microsoft 365 voice, a business organization can have greater control of its communication system and can make minor changes and alterations if required. The system is easy to set up and with a straightforward billing system, a busines can save both money and time.
● Competitive Calling Plans: The plans and packages offered by Microsoft 365 business voice are surprisingly competitive and you can get more domestic minutes to your local landline and mobile networks as compared to other voice service providers available in the market. Getting a new number is really easy and if you need to operate overseas you can add international calling plans to your existing package.
Benefits Of Microsoft 365 Business Voice:
➔ Microsoft 365 business voice can provide you with flexible and affordable pricing options.
➔ You can save your money on the expensive hardware for your existing telephone system.
➔ Microsoft 365 business voice comes with a bundle of advanced features including free phone numbers, audio conferencing, auto-attendant, porting numbers, call forwarding, and many more.
➔ Microsoft 365 business voice can make your organizational communication efficient by providing you with a range of services including number portability, call transferring, and conferencing.
➔ You can easily integrate Microsoft 365 business voice with your existing telecommunication infrastructure and collaborate with your colleagues during calls and team meetings.
➔ You can also integrate this system with your company's CRM and corporate directory.
How Can We Come To Your Help?
If you need Microsoft 365 business voice for your enterprise in the UAE, Siemcom, a leading IT system integrating company in UAE can help you out by providing you with state-of-the-art communication, networking, and IT solutions. We can also help you with an office 365 assessment, migrations, and deployments. Check out our website for more information on Microsoft 365 business voice solutions and register for your free 30-days Microsoft 365 Business voice trial.