The importance of a proprietary business communication platform to ensure business growth and productivity is paramount. Microsoft Teams is a leading business communication platform that offers a cloud-based collaboration for the tasks such as messaging, video, voice, and conferencing to bring the round-the-clock workspace collaboration a reality. It is part of the Microsoft 365 family of products and it is your hub for teamwork in office 365 where it provides you with a single shared workspace for your team's conversations, files, meetings, and apps to make your work coordination better. Modern businesses need borderless collaboration to ensure success for the organizations. They need their working group and professional team to integrate their work successfully irrespective of their geographical location. Especially the IT companies need a strong network & communication infrastructure and sound teamwork which is fulfilled by Microsoft Teams.
Key Advantages of Microsoft Phone System:
If you are about to set up your own office and business in the UAE, Microsoft teams phone system in UAE can provide you with a number o benefits for creating an efficient workspace.
● Microsoft teams can provide you with an integrated and unified communication platform to increase the productivity standard of employees. It uses IP-based voice connections that can be fully integrated with the main workspace apps-Microsoft Teams that reduces the necessity for multiple apps used by employees on daily basis.


● Microsoft Teams is a unique VoIP phone system that increases the cost-savings on hardware, monthly phone bills, and maintenance. Organizations can get more phone features at a low cost.
● The VoIP phone system of Microsoft Teams allows the employees to communicate with each other much easier. Employees can convert one-on-one calls into group calls and use screen-sharing to move to video calls from voice calls.


● It allows the organizations to get more phone features than ordinary landline communication systems. Microsoft Teams offers enterprise-class phone features including auto attendant, contact center integration, cloud voicemail, custom greetings, audio conferencing, group call pick up, and much more.
● It allows the users to attend phone calls from anywhere and by using multiple devices. Remote teams and WFH employee groups can easily get full access to the phone system of their companies. Moreover, they can choose multiple devices for handling calls such as computers, mobile devices, Team enabled desk phones, and team-enabled devices for conference rooms.


● Microsoft Teams phone system is designed and built with the highest security standards. This system ensures that your call data and shared information are fully protected from outsiders.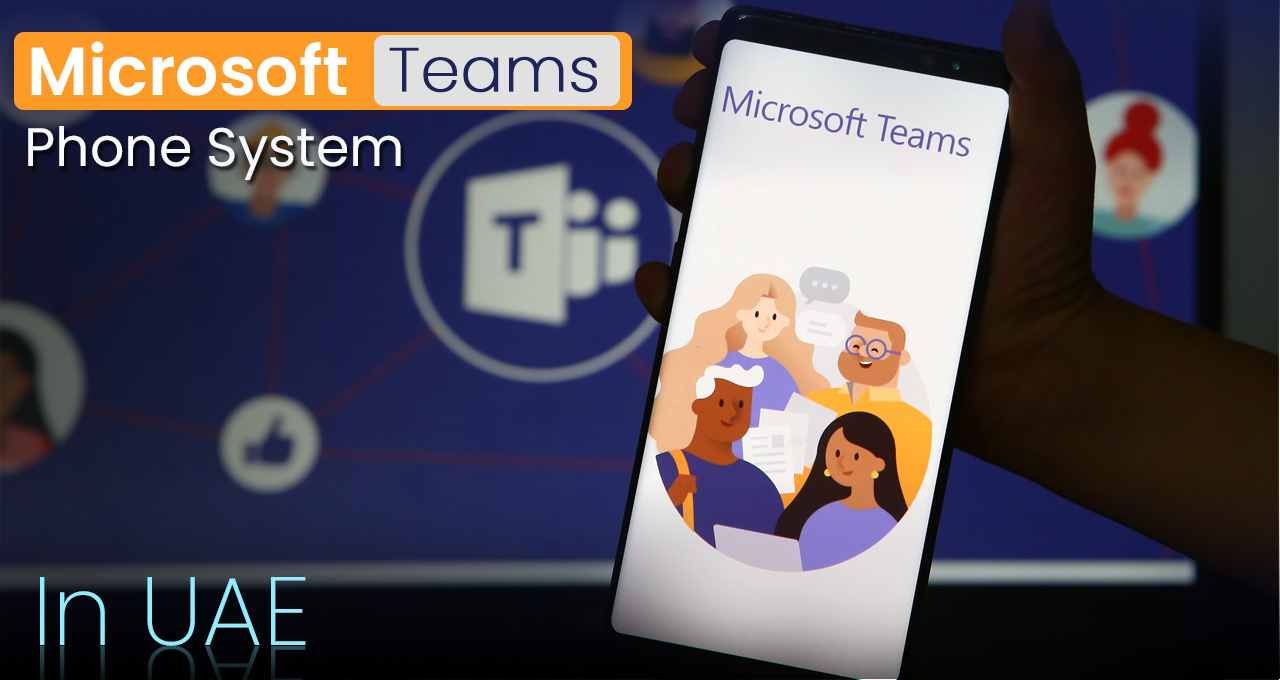 Importance Of Session Border Controller For Microsoft Teams:


Microsoft phone system in UAE is a unique VoIP phone system that comprises a variety of complex codes and protocols that need transcoding. Session border control plays a vital role in transcoding and translating complex codes and protocols. Session border control is a smart device that protects and regulates IP communication of Microsoft Teams. It is an effective and efficient guidance system for your VoIP network that has a multidimensional role to make your VoIP phone system functional. The roles include:
❖ Security Regulation.
❖ Maintain connectivity.
❖ Premium quality of service and compliance
❖ Traffic Policing.
❖ Rate Limiting.
❖ Call admission control & many others.
How Can We Help You?
If you have an IT company that needs a
Microsoft Teams phone system
, Siemcom can help you build a dependable network infrastructure by providing you with a proper IT consultation and installation and maintenance of your VoIP phone system. Siemcom offers Microsoft certified session border controller (SBC) that is vital for creating a secure connection between Teams and the phone lines. With us, you are certain to have a secure and reliable phone system for your office. We can also help you with other networking and Microsoft products to create an efficient workspace. Our in-house service expertise and after-sales support will improve and enhance the performance of your business. Check out our official website for more information.